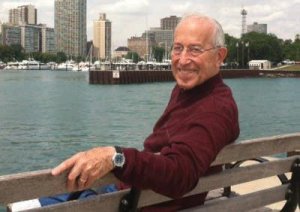 This practice owes its name and legacy to its founder, Gerald Walter Sobel, M.D. (1929-2017). His career spanned 51 years, during which he set a standard as the quintessential personal physician. From 1961 and his return from Army Service, he sustained a continuous practice until his retirement in November of 2012.
Dr. Sobel was born in Beaumont, Texas. He attended Rice University in Houston (B.A. 1950), then the University of Texas Medical School in Galveston (M.D., 1954, Valedictorian). He moved to Chicago to complete residency and fellowship training at Michael Reese Hospital.
He built a private practice over the years focused on primary care internal medicine and a special expertise in diabetes management. He also consulted for the Diabetes Program of the Chicago Board of Health, was medical director at Drexel Home in Hyde Park for over 15 years, and served as President of the Medical Staff at Michael Reese. He gradually shifted his hospital practice to Northwestern as of 1991.
Dr. Sobel cared for thousands of Chicagoans over the years, often for several generations of family members. He was known for his unwavering energy, his thirst for knowledge and incessant reading, and his dedication to his patients.
In 1995, I had the opportunity to join my father and see firsthand how he drew on his depth of knowledge of medicine in combination with his intimate awareness of his patients' personal circumstances to try to achieve the best outcomes possible. In his area of greatest expertise, diabetes mellitus, he was always at the cutting edge.
By the end of his career, we had worked together for 17 years. It is no exaggeration to attribute so much of my learning to his mentorship and love. I am still learning about him from current patients who started under his care years ago.
Surrounded by his family, he died peacefully at home on February 5th, 2017, 5 days short of his 88th Birthday. He is survived by his wife of almost 60 years, Lynne Snitman Sobel, his three children, Jeffrey (Helen), Rhonda (Richard), and me (Dore), his sister Bertha, six grandchildren, and many nephews, nieces, and cousins.